Bangor Office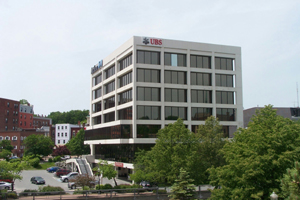 Physical Address
One Merchants Plaza, Sixth Floor, Suite 603
Bangor, Maine 04401
Mailing Address:
P.O. Box 2429
Bangor, Maine, 04402-2429
Tel: (207)945-5900
Fax: (207)945-0758
Email: bangor@rwlb.com

Written Driving Instructions
Take I-95 to Exit 184 (Union Street) in Bangor.
Head Southeast on Union Street/ME-222 (If coming from the south, turn right onto Union Street; if coming from the north, turn left onto Union Street.)
1.0 mi)
Turn left onto Hammond Street/US-2 at intersection of Union/Hammond; proceed to second set of lights.
(0.3 mi)
Turn right onto Main Street/US-202, enter left turning lane.
(0.0 mi)
Make immediate left turn onto Broad Street.
(0.0 mi)
End at 1 Merchants Plaza (white concrete building with black tinted glass windows; convenient parking available in City parking garage or on street).