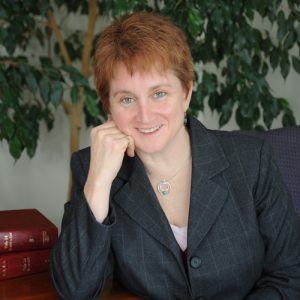 Carol I. Eisenberg
ceisenberg@rwlb.com
Tel: (207) 774-7474
Fax: (207) 774-1343
465 Congress Ave., 9th
Feature Video
Carol's Tips
Carol I. Eisenberg     
Carol Eisenberg has been a lawyer at RWLB since soon after the firm was formed in 1995. Much of her practice is representing professionals before regulatory boards and in lawsuits, including doctors, dentists, lawyers, nurses, veterinarians, social workers, physical therapists, real estate agents, insurance agents and others. Carol also handles employment matters in litigation and before the Maine Human Rights Commission.  Her general litigation practice includes defending claims arising from premises liability, motor vehicle accidents, and contract disputes, as well as representing injured plaintiffs in personal injury cases. She has also been named as an AV® Preeminent™ lawyer by Martindale-Hubbell's peer review system, representing recognition of the highest level of professional excellence and high ethical standing, and has a client review rating of 5 out of 5.
Born in Atlanta, Georgia, Carol made her way to Maine to attend Colby College, from which she graduated cum laude with distinction in philosophy. Carol worked for various nonprofits in development and event planning before becoming the recycling coordinator for Regional Waste Systems (now EcoMaine), where she conceived, implemented, and administered a recycling program for 31 communities in greater Portland that has been in place for 20 years. Carol attended the University of Maine School of Law where she was a staff member and editor of the Maine Law Review. She received her J.D. magna cum laude.
Carol and her husband, David, a science teacher, enjoy ferry rides each day to and from their home on Peaks Island in Casco Bay. They have two daughters and one son. Carol's volunteer work has centered on her island community, her children's schools and sports teams, libraries, and assisting immigrants and refugees. She currently serves on the boards of Friends of the Peaks Island Library and Friends of T.E.I.A., and she has been a long-term board member of Cleaves Law Library.
Education
University of Maine School of Law (magna cum laude) J.D.
Colby College (cum laude)
Bar Admissions
Maine
Memberships
Friends of the Peaks Island Library (board member)
Friends of T.E.I.A. (board member)
Cleaves Law Library (board member)
Easy To Navigate!
Carol, Thank you for your counsel and support. Your knowledge of the system made the process easy to navigate and your calming personality was very reassuring.
Doctor After Board Complaint Was Dismissed
Communication Was Unmatched
You have been great, Carol. Your communication was unmatched.
Adjuster In Medical Malpractice Case After The Case Was Dismissed
Well Written And Reasoned!
What excellent news! Congratulations. And you have done a great job dealing with a very difficult plaintiff's counsel and then winning on summary judgment. I agree that the decision is well written and reasoned.
Client's Personal Attorney Reacting To Victory On Motion For Summary Judgment
You Made Me Feel Much Better!
Thank you so much for your help with this matter. I was so overwhelmed when I first received this complaint in the mail, and you made me feel much better. It has meant a lot to me to have your help through this process. I really appreciate everything you did. Thank you!
Dentist Reacting To News That The Board Dismissed A Complaint Against Her
Amazing!
That is amazing. It is a piece of writing I would have probably never been able to articulate, or at least not without six months prep! Thank you!!!!!
Nurse Client Reacting To Letter To Board Responding To A Complaint
Respected And Listened To Me!
Thanks again for everything you did for me from start to finish. The reason I chose you was because you respected me and listened to me. I truly appreciate that!
Claimant After Favorable Settlement Of An Employment Discrimination Matter
Impressed And Appreciative!
Thank you for stating so succinctly the truth of the matters at hand. I am impressed by and appreciative of your professionalism and concern.
Defendant In Discrimination Claim
Put Everyone's Mind At Ease!
It has been a pleasure & thank you for making this matter so easy for the insured & myself. I know it helps put everyone's mind at ease when you are able to trust the person handling the case to bring the matter to resolution.
Insurance Company Adjuster
Huge Relief!
Thank you so much for that good news. My Dad, myself and my family appreciate you working to resolve the matter. This will be a huge relief for my Dad. Thanks for staying in touch with updates.
Defendant Client In Personal Injury Claim
Well Done!
I just wanted to let you know that I like your response here. Well done!
Counsel For Co-Defendant In Employment Discrimination Claim
Quite The Referral!
I've sent your contact info to the local union president and asked her to share it with any other teachers or staff who need a great lawyer!
Teacher After Favorable Settlement Of Claim For Disability Discrimination And Whistleblowing
Over The Moon!
Thank you so much for your great work with our member. He's over-the-moon happy about your support and advocacy on his case. We so much appreciate that we can refer members to you and have complete confidence they will get the help they need.
Lead Labor Representative - Health Care Professionals' Union
Huge Weight Off!
Thank You so much!! This is a huge weight off that I have been carrying. I am so happy to have this behind me. You have been great and I very much appreciate it.
Defendant In Medical Malpractice Matter
Wonderful!
That is wonderful! Thank you so much for your work!
Nurse Whose Board Complaint Was Dismissed
One Of The Happiest Days!
This has been one of the happiest days I've experienced in many months and I can't thank you enough. I hope when this pandemic is behind us, I can come up to Portland and take you out to lunch!
Plaintiff In Discrimination Claim
Burden Has Been Lifted!
Thank you so much. One burden has been lifted. My wife and I appreciate all that you do.
Defendant In Discrimination Claim
Outstanding Job!
You (and the team) have done an outstanding job; and I thank you sooo much for all of your hard work. I truly appreciate all that you have done on my behalf. A big sincere thank you!
Defendant In Motor Vehicle Accident Lawsuit
Truly Grateful!
Thank you for all your hard work. For the past few weeks I've been feeling so angry about what has happened and your guidance has been a great comfort. Thanks so much for taking the time to listen and for attending to this matter with such diligence. I am truly grateful!
Plaintiff In Discrimination Matter
Immense Amount Of Relief!
Oh thank you so much for this good news! Your help is greatly appreciated this has been weighing on me for so long. I am feeling an immense amount of relief!  I don't know what else to say other than I appreciate you so so so much.
Nurse Respondent To Board Complaint
Excellent Result!
Thank-you for the excellent result!! Please forward a copy of the stipulation of dismissal when you receive it.
Senior Claims Resolution Specialist
A Pleasure Working With You!
Thank you. It has been a pleasure working with you, too, and I certainly plan on sending more cases your way.
Claims Specialist
Expert Guidance!
Thank you very much for your expert guidance in this matter. Sincerely,
Pharmacist Respondent To Board Complaint
Thanks So Much For Everything!
Thanks so much for everything! As soon as I have another Maine matter cross my desk, you will hear from me!!  Stay safe!
Claims Operations Specialist
Wonderful
Thank you for the update.  It was wonderful working with you and I will definitely be sending cases your way. Best Regards,
Liability Claims Special Representative