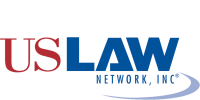 Richardson, Whitman, Large & Badger is a member of the USLAW NETWORK. USLAW is an international network of more than 100 independent law firms with over 6,000 attorneys, composed of firms in most of the United States, Canada, Latin America, Europe, Asia and China. The USLAW network is committed to providing high quality legal services to meet the needs of clients around the country and around the world.
Membership in USLAW is by invitation only and RWLB is the only USLAW firm in Maine. Each member firm is "AV" rated in Martindale Hubbell and was fully vetted and asked to join after a rigorous review process. All of the member firms possess substantial litigation and trial experience as well as broad commercial legal capabilities.
USLAW conducts two national conferences each year and provides a variety of training and educational programs for clients, including programs on products liability, transportation, retail, construction, employment, insurance, discovery and trial work and updates on the changes in Medicare.
Please ask any of the attorneys at RWLB for more information about USLAW. If you are looking for a referral for a case in another state, we would be happy to offer a suggestion and make an introduction.
If you are interested in attending a client conference or in a particular educational program, please let us know.