Portland Offices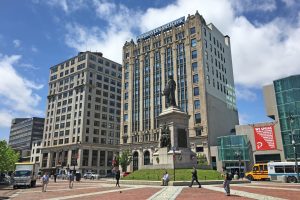 465 Congress Street, 9th Floor
Portland, Maine 04101
Tel: (207)774-7474
Fax: (207)774-1343
email: portland@rwlb.com
Written Driving Instructions
To Portland from the South:
From the Maine Turnpike, get off at Exit 44 "to South Portland/Portland Downtown I-295".
Proceed North on I-295 to Portland.
To Portland from the North:
From the Maine Turnpike, get off at Exit 52 "Falmouth" and follow it to signs for I-295 South to Portland.
Continuing from either direction:
Exit I-295 at Exit 6A "Forest Avenue South". After you exit, you will have to bear right off the exit ramp but get into the left lane beside the meridian strip as you will be going straight through the first light and proceeding straight on Forest Avenue.
Go straight up Forest Avenue to its T-intersection with Congress Street. Take a left at Congress Street and go approximately five blocks. You will pass Preble Street. Our offices are located at 465 Congress Street between Preble and Elm Streets. People's United Bank is on the ground floor of the building and the building is right next door to the Portland Public Library (on your left).
Parking
Street parking is very difficult, although you may find an available meter on either Preble or Elm Street. We would suggest that you pass our building on Congress Street and take a left onto Elm Street. A parking garage will be on your right. There is also another parking garage for the former Portland Public Market. To enter this garage, go straight through the light at the intersection of Elm and Cumberland, and take a left to enter this garage.