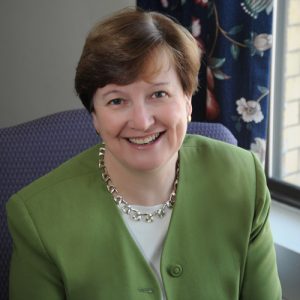 Elizabeth G. Stouder
estouder@rwlb.com
Tel: (207) 774-7474
Fax: (207)774-1343
465 Congress Ave., 9th Floor
Portland, Maine 04101
Elizabeth G. Stouder     
Elizabeth (Beth) Stouder is a director/shareholder of the firm. She is based in the Portland office. Her practice is focused on civil and commercial litigation, although she routinely advises clients on ways to reduce or limit litigation. She has been trying cases for more than 30 years.
Beth advises and defends clients in the retail sector in all manner of claims and represents those clients and others in defense of allegations involving premises liability, negligent security, false arrest and employment liability. She is active in the Retail Practice Section of the USLAW Network, a national network of more than 60 independent firms with offices in 45 states and more than 3500 attorneys. She is a former Chair of the group and has co-chaired and spoken at several retail programs.
Beth defends a wide range of personal injury and commercial litigation. She has an active employment practice and an active practice defending asbestos litigation. She also represents attorneys in discipline claims and real estate brokers in E&O claims.
Beth is Chair of the Local Rules Advisory Committee for the Maine federal courts and a member of the Maine State Rules Committee.
Beth has been active in the Maine legal community, having served as a member and panel chair of the state grievance commission and as the former co-chair of the Public Relations Committee of the Maine State Bar Association. She has also been active in the Defense Research Institute (DRI), having served as the Maine State Representative and the President of the Tri-State Defense Association which covers Maine, NH and Vt.  She is also the former President of the Maine Chapter of ABOTA. In addition, Beth is a former chair and member of the Board of Directors of the Aucocisco School and Learning Center, a non-profit school which serves children with special learning needs.
Born in Kankakee, Illinois, Beth graduated cum laude from Middlebury College. She earned her law degree from Temple University School of Law, where she graduated cum laude after serving as a staff member and note editor of the Temple Law Quarterly.
A self avowed tennis junky, Beth spends much of her spare time on tennis courts.  She also plays some golf, though admittedly, with a great deal more enthusiasm than talent.
Education
Middlebury College (cum laude)
Temple University School of Law (cum laude)
Memberships
Maine Chapter of ABOTA (President)
Local Rules Advisory Committee for the Maine Federal Courts
Maine Bar Association
Cumberland County Bar Association
Bar Admissions 
Maine
United States District Court, Maine
First Circuit Court of Appeals
United States Supreme Court