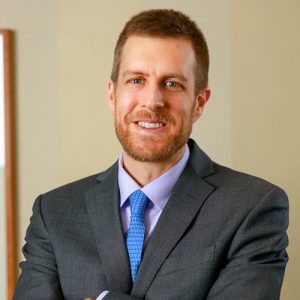 Joseph L. Cahoon, Jr.
jcahoon@rwlb.com
Tel: (207) 774-7474
Fax: (207) 774-1343
465 Congress Ave., 9th Floor
Portland, Maine 04101
Joseph L. Cahoon, Jr.     
Joe received his J.D. cum laude from the University of Illinois College of Law. During law school, he did an externship clerking for the Honorable Holly F. Clemons. He also worked in the office of the General Counsel for Navistar and as a research assistant in the law library. Joe received honors in several areas of the law school curriculum, including advocacy and legal research and writing. He was on the law school's Editorial Board and External team of the Jessup International Moot Court Competition.
Prior to attending law school, Joe worked as a Program Assistant at U.S.Citizenship and Immigration Services and as a Sales Audit Processing Coordinator for the T.J.X. Companies, Inc. Joe attained his undergraduate degree from Penn State University.
One of Joe's proudest achievements was completing a 2100+ mile thru-hike on the Appalachian Trail, which he did in six months in 2000.
His wanderlust satisfied, Joe has settled in Portland to be near his family and start his legal career with our firm.
Education
University of Illinois College of Law (cum laude) J.D.
Penn State University
Memberships
Maine State Bar Association
Tri-State Defense Lawyers Association
Bar Admissions 
Maine
United States District Court, Maine, including Bankruptcy